…and since it's Easter, I am going back to one of my first academic love, that's Central Asian archaeology and history. Actually, this interest began as a curiosity about the influence of Greek and Roman civilisation in Central Asia and the beginning of the Silk Route – however, due to a series of circumstances, I ended up doing my BA dissertation on the first millennium AD, and particularly early Christian remains along this route.
So, digging into my 'previous research' folder, here it is one of my favourite pieces, very apt for Easter: a silver paten with scenes from the Gospels found in the small village of Grigorovskoe, in the Perm area (Southern Russia) in 1897. The paten is now conserved at the Hermitage Museum, St. Petersburg, though someone may remember it as part of the exhibition Byzantium 330-1453 held at the Royal Academy of Arts in London in 2008-2009 (in collaboration with the Benaki Museum in Athens).
The scenes are easily recognisable: in the tondos, there is the crucifixion, the women at the empty tomb, and the Ascension. In the triangular spaces there are the Roman soldiers sleeping at the sepulchre, St. Peter denying Jesus with the rooster, and the prophet Daniel in the lions' den. In case there were any doubt, all these scenes are clearly labelled in Syriac inscriptions.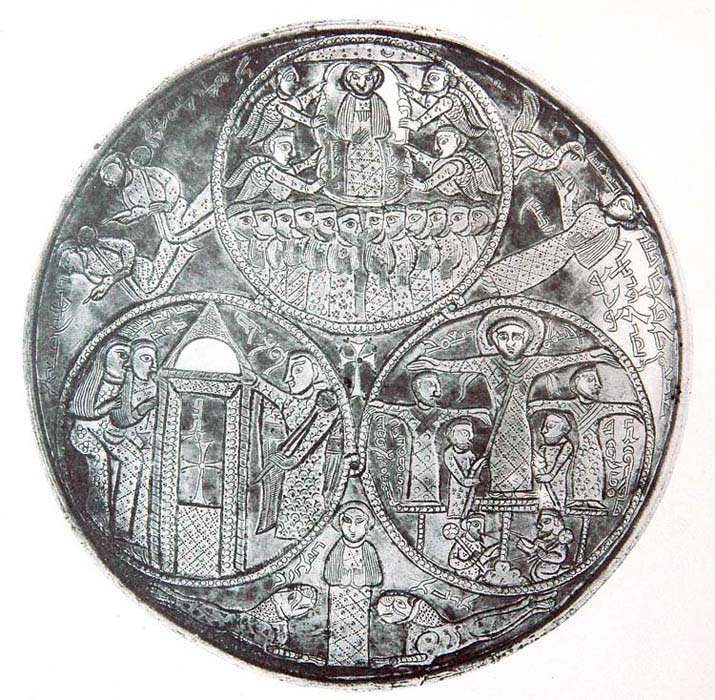 The plate dates to the 9th-10th century, and though it was found near Perm, it was probably manufactured in the Semirech'e region (Eastern Kazakhstan), since it can stylistically be related to Sogdian art. It also shows a Nestorian influence, in so far the Virgin is not depicted in the Ascension, a fact that corresponds to what could be read in Acts 1:9, though 'Orthodox' (*Orthodox in this period refers to the Church of Rome, at the time still including the Byzantine Empire) Christian churches had introduced the Virgin in this iconography since the 6th century (Gilman I., Klimkeit H.-J., Christians in Asia Before 1500, Routledge 1999, pp.215-216). Her absence in this paten suggests therefore that Nestorians, who had been in Central Asia since the 5th century and reached the areas north of the Syr Darya probably around the 7th century, had continued to represent the scene as it was described in the New Testament.
Recently, in 2013, Vera Zalesskaia has suggested that this paten is inspired by the apocryphal Gospel of St. Peter (K interpretatsii siuzheta na
nestorianskom diskose iz sela Grigorovskoe, in Sogdiitsy doma
i na chuzhbine / Sogdians, Their Precursors, Contemporaries and Heirs. Sankt-Peterburg: Izd-vo. Gos. Ermitazha, 2013, pp. 331-338).